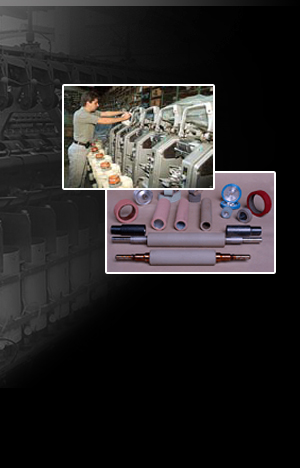 Silqui-Tex S.R.L. offer their clients a varied gamut of textiles services. Among them, we give them technical assessment, we sell qualified machineries, and textiles supplies, we have a wide gumming sector of cylinders and we provide maintenance and assembling and the equipment's maintenance.
Machinery sales: As you will be able to see in the web site, Silqui-Tex S.R.L. has a big amount of machinery available for sale. All of them in very good state and ready to produce. Lumarsa S.A. / Silqui-tex S.R.L. is the leader of machinery sales in the Argentinean market. We are the providers of all the spinneries of the country because they all trust us whenever they need any changes in their production line.

Parts sales: As many factories are trying to minimize their costs, they do not posses a varied stock of machinery parts. This is why Silqui-Tex S.R.L. has turned into a huge warehouse where our clients can always find the parts and accessories they are looking for. (See Parts). We deliver the different parts within Argentina and many other countries of South America, such as Brazil, Paraguay, Chile, Uruguay, Bolivia, etc.

Assembling and maintenance: Many companies hire our services for the assembling or the preventive maintenance of their machineries. We are constantly doing different jobs in factories such as: T YN PLATEX, VANDENFIL, VANAR, TIPOITI, RITEX. Lumarsa S.A. / Silqui-Tex S.R.L. have a specialized group of assemblers for each production line: Opening and Cleaning, Cardas, Open End, Enconado, etc. This allow us to vary the speed and the title in an electronic way, eliminating the change of pulleys and gears.

Cylinders: This sector has been left aside in all the spinneries. For this matter, Lumarsa S.A. / Silqui-Tex S.R.L. counts with a specialized sector to give services related to it: first gumming, farrier and rectify the cylinders (For Manuar, Open End and Cardas). As well as that, Lumarsa S.A. / Silqui-Tex S.R.L. is in charge of providing the rubber cylinder for the farrier. The rubber coverings that we use are from very well known brands such as: Day, Amstrong y Accotek.